Hipcamp is rolling out Extras, which will allow Hosts to offer Hipcampers something extra for an additional fee when they make a booking. Please note: this is just the beginning! Additional options will be added as we continue to build this feature out. During this initial test period, you will be able to offer two different Extras to your Hipcampers: 
One bundle of firewood
Hipcampers will be able to purchase one bundle per booking.
You'll be responsible to make sure you have enough bundles of firewood on hand.
A guided tour
Hipcampers will be able to purchase one guided tour from you. 
You'll be responsible for coordinating tour details with guests.
Get creative! Some tour ideas include:

An opportunity to see how your farm operates
A nature walk highlighting the local ecology, flora, and fauna of your area
A chance to learn more about the conservation or nonprofit work you do on your land
You can opt in to offer these Extras in your listing settings under 'Extras'. If you do opt in to offer an Extras, please make sure you are ready to offer the item to new campers that are booking, and that you are abiding by our Extras policies and best practices.
You set the price of these items, and Hipcampers will be able to purchase them when they make a booking.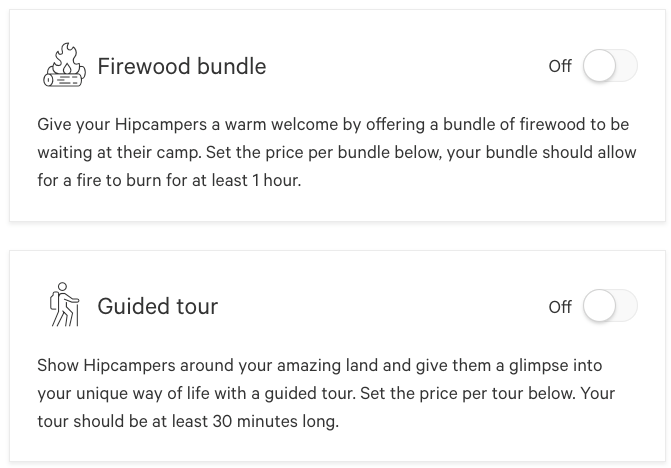 In the future, we'll offer a wider variety of options for Extras so that you can offer more unique and useful things to Hipcampers with ease!
If you have feedback on this feature, feel free to share it with us by writing to Hipcamp Support.