First, take a look at your property page today. You can do this by going to your Property tab and then clicking the 'Preview' button.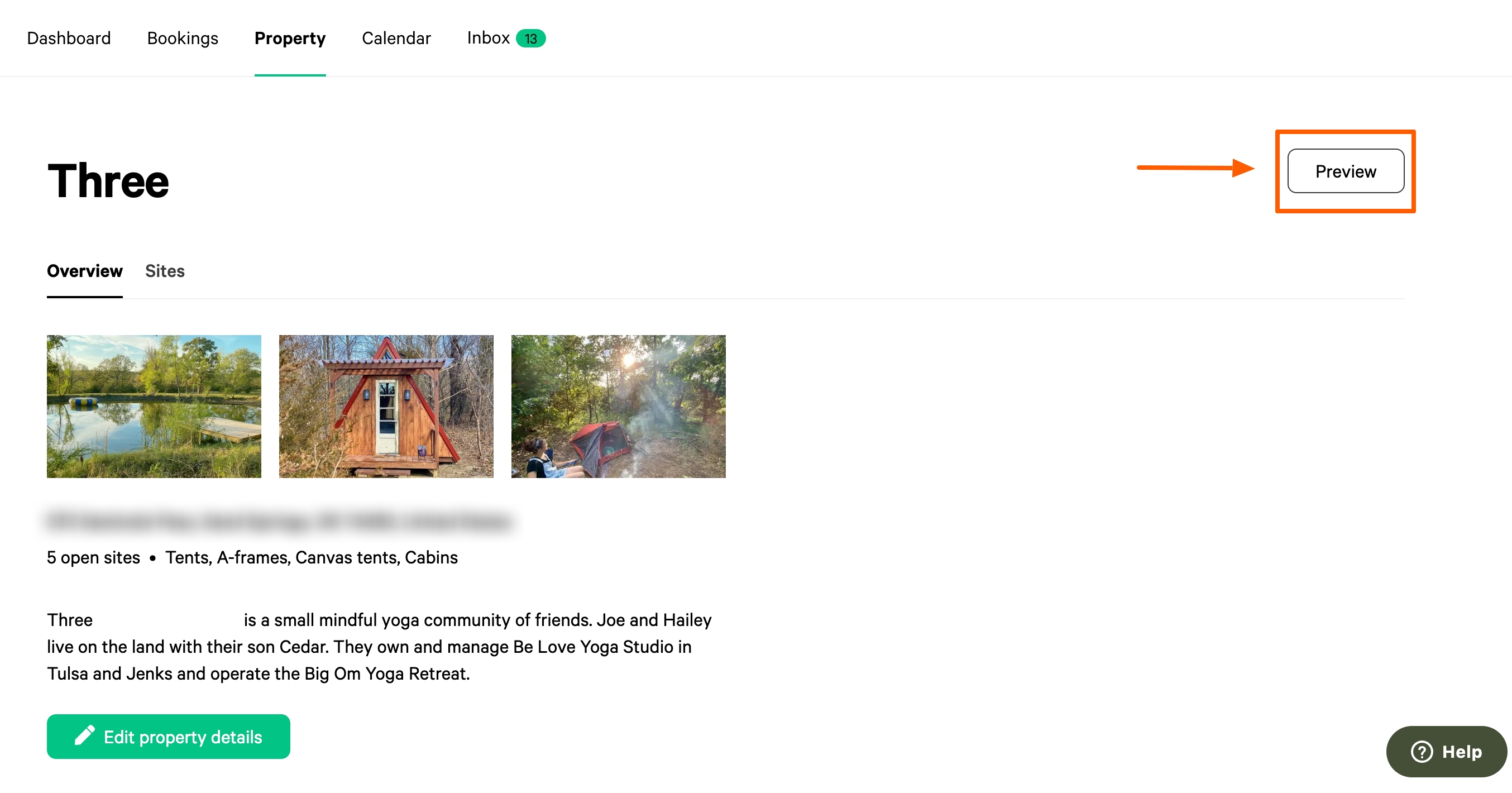 What should I name my property?
Target 3-4 words

Highlight your property's best feature (woods? mountains? secluded? retreat? orchard?)

Double-check your spelling is correct

Don't use all capital letters, emojis, or special characters ($#@)
➡️ Update your property name here.
What should my property description say?
Enticing first sentence:

E.g., "Stay on our grove of old-growth trees in the New Forest and enjoy lots of nearby coastal hiking and mountain biking trails."

Terrain:

How many acres/hectares? Is the property nestled in pines? On the side of a river? On the moors? In the mountains?

Nearby points of interest + distances:

State or national parks, swimming holes or other bodies of water, views, landmarks. Distance to nearest supermarket + restaurants.

Activities:

Swimming, hiking, biking, horseback riding, surfing, bird watching, etc. Clarify if these can be done nearby (how far) vs. on the property itself.

Amenities

: Toilet + what kind of toilet; shower; potable water; cooking options; fire pit; firewood; picnic table. Are these amenities private or shared?

Privacy:

How far is the property from other properties / neighbours? How far is the road? If there are multiple campsites, how far are they from each other? Should Hipcampers expect to see other people during their stay? What sounds should Hipcampers expect?

Access:

4WD required? Clearance? Tight turns? Walk-in only?
➡️ Update your property description here.
How should I select my property cover photo?
Once on your property page, the first photo that is slightly larger in size is your cover photo. This is the photo that will appear for Hipcampers in search so make sure it's eye catching!
If you'd like to change your cover photo:
Navigate to your Property tab and hit the "Edit Property details" button
Click "Add or edit photos"
Scroll through your photos until you find one you love and click on the pencil icon on the photo
Click the 'make cover photo' button on the top right. Done!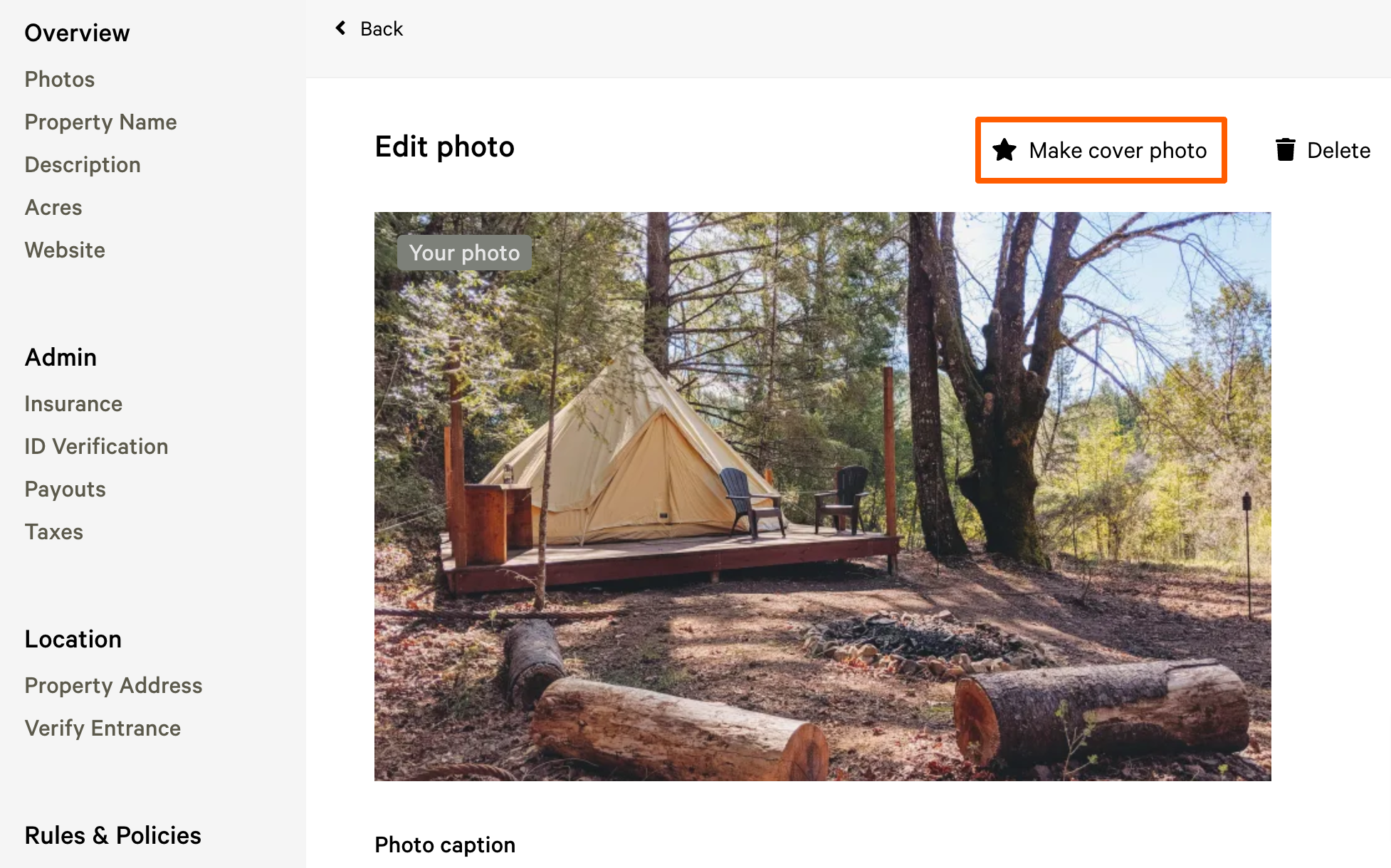 (Alternatively, you can click and drag the photo you'd like to the front of the album!)
When selecting your cover photo it's important to keep the following in mind:
Photo should be horizontally-oriented

Photo should be a zoomed-out shot of your land

Photo should be bright and taken during daylight
Here are some things to avoid when selecting a cover photo:
Photos of Google maps or other maps of your property

Graphics, illustrations, or other non-photos

Zoomed-in photos of signage, pets, or flowers

Photos taken at night

Photos that are not your land or property
What kinds of other photos should I upload to my property page?
Beyond your cover photo, we recommend uploading photos that show off your property in a general way and that include areas and amenities that anyone visiting will be able to enjoy and access. If there are specific amenities or details that can only be used if you book a specific unit, save those photos to upload to show off on that unit specifically.
You can visit this FAQ to understand how to update your specific units on your property page.