Special note: We improved our calendar syncing reliability in September 2020. If you set up your two-way sync before then, we've made changes to your Hipcamp calendar links which is why your status may read "IMPORT ONLY". We recommend that you re-add your Hipcamp link to VRBO by following the below instructions to upgrade your syncing connection, reliability, and to unlock monitoring tools.
If you are hosting on Airbnb in addition to Hipcamp, it's important that your calendars are properly synced. This prevents double bookings and provides a better experience for your Hipcampers (and less stress for you!). Please note that this must be done on a desktop device at this time.
To set up a successful two-way sync between Hipcamp and Airbnb, you'll need to get the iCAL calendar links for each of your calendars (this is a specialized link that allows each of your calendars to "talk" to each other). Here's how:
Step 1: Grab your Hipcamp link to export into Airbnb
Visit your External Calendars page. You can navigate there from your Dashboard homepage or via your Calendar under the Options tab. The above link will take you right there!
Click Add a calendar and name it Airbnb
Copy the Hipcamp export link and hit Save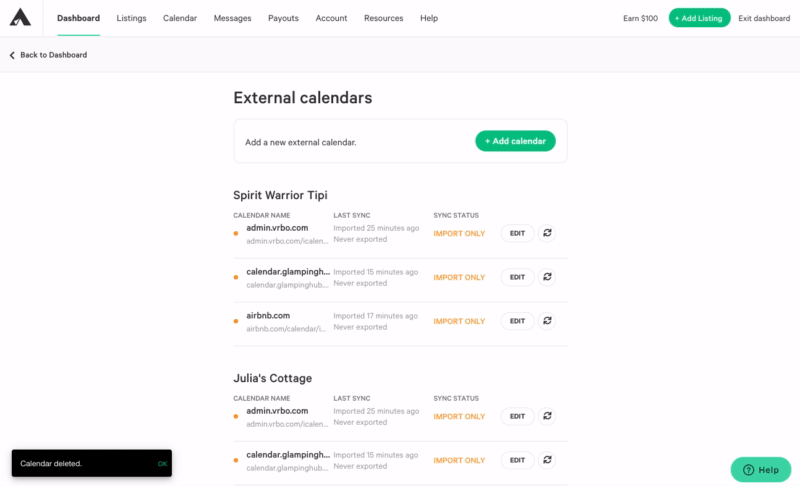 Step 2: Add your Hipcamp calendar link into Airbnb
Log into Airbnb
Select Listings
Click on Availability
Scroll down the page and under Sync calendars

, select

Import Calendar
Paste your Hipcamp link into the correct box and name the calendar Hipcamp
Click Import Calendar to get the sync started
Click Export Calendar to grab the Airbnb link that will now need to be entered into your Hipcamp External Calendars page.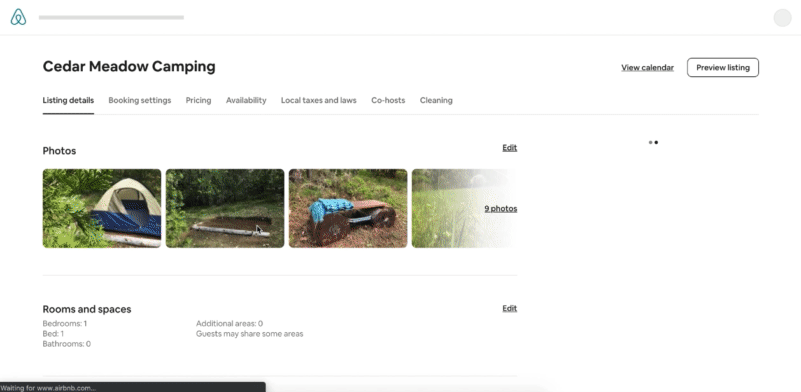 Step 3: Adding your Airbnb link into Hipcamp
Now that you have your Airbnb Calendar link, go back to your Hipcamp External Calendars page
Click Edit on the specific site that you are syncing with Airbnb and paste your Airbnb link into the Import link box
Hit Save and visit the page in a few hours to make sure that your two-way sync is active! You'll be able to easily tell things are working if you see the green 'Two Way Sync' label next to your calendars.
This is what it will look like when two-way sync is successfully set up for your external calendars:
If you host on other platforms and need to sync those calendars, the process is the same. You can sync to any services that uses iCAL/ics links. You can check out out our other helpful FAQ: Can I sync my Hipcamp calendar with multiple other calendars?