There are many reasons why you'd want to choose to set a different price for your Hipcamp on a specific night. Holidays, special events in your area, or dates where you want to offer off-season discounts are all great reasons to set a special price.
Please note: On April 26, 2021, your pricing for additional campers will also increase at the same rate that you increase your base price for all future bookings. Your past bookings will not change or be updated.
Example: If your base price is normally $50 and your additional guest fee is $20, but you increase your base price to $75 (+50%) on a special day, that +50% would also apply to additional guest fee on that special day ($30 instead of $20).
Updating pricing on the Grid view calendar
Click here to open your calendar

and toggle to Grid view

Click on the price for the date you want to set a special price for on the calendar

Update the price and save

Note: You can use the 'Bulk Edit' button if you'd like to update the price for many dates at once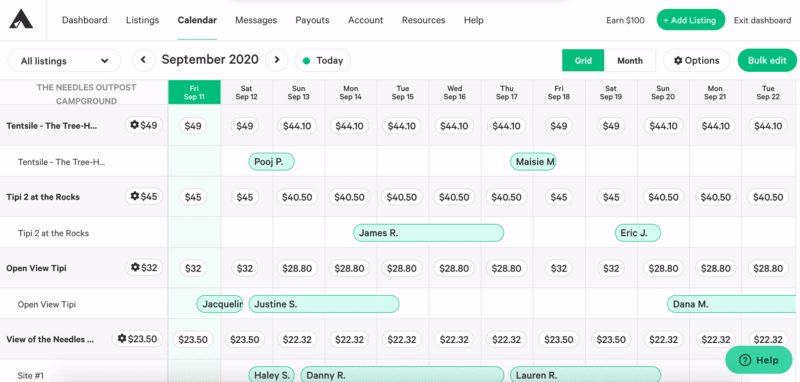 Updating pricing on the Month view calendar
Click on the date you want to set a special price on the calendar (or use the Bulk Edit button in the top right corner)

Select the Date Range
Click Manage Day

Now you're able to see all your listings with their prices for the date (or multiple dates) you've selected

Click on the listing you'd like to change

On the right hand panel, enter the new price

you'd like to charge for the selected dates

Click Save

You're all set!