Building a trustworthy marketplace is one of our number one goals at Hipcamp. To help ensure that people are who they say they are, we have partnered with Persona, an ID verification company that allows individuals to securely and easily verify their identity in seconds. Click here for answers to some FAQs about verifying your identity with Persona.
We're rolling this out to newly activating Hosts first, and we will expand to the wider community over time. We are slowly rolling it out to make sure this is a simple process for everyone to go through, and we'd like to hear from you if anything was challenging or unexpected about the ID verification process. Please file a support ticket to let us know!
How to verify your identity:
Go to your Property page and select Edit property details
Select Verify your identity now
A window will appear, click Begin verifying to continue
Choose whether you will provide a drivers license, ID card, or passport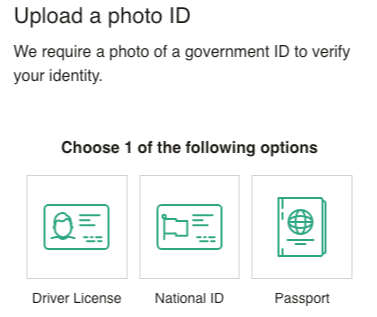 You have a few options for how to provide your ID:
Continue on your phone via text message: You'll be texted a link that you can open on your phone which will prompt you to take a photo of your ID and submit it to complete the verification process. This is the easiest option.
Upload a photo: If you already have a picture of your ID on your device, you can directly upload it via this button.
Camera icon: If you have a webcam for your device, you can click the camera icon to activate your webcam and take a photo of your ID to submit it that way.
Continue via email: If you have access to the internet but no cell service where you live, choose the option to continue via email. You will be sent an email to complete the process and be sure to open the email on your phone. The email will prompt you to take a photo of your ID with your phone.
Quick tip! Do your best to take a clear photo of your ID document so the verification can be successful. Make sure the photo is taken in a well-lit location and that there isn't a glare on your ID. Try not to cover any part of your ID with your finger - it's best to place it on a flat surface and take the photo that way.
Hopefully, this is a smooth experience, but if you run into trouble during any of these steps, we're here to help!
FAQs:
Is my personal information being stored?
Persona, the company we have partnered with, stores limited data related to your ID for a limited amount of time in case an issue is flagged that requires a manual review (such as an ID being flagged for fraud). The data is then automatically deleted by Persona, and Hipcamp only records that you as a Hipcamp community member successfully verified their identity.
How does Persona address data privacy?
Persona is GDPR and CCPA compliant, and they have a robust privacy program that includes secure data transfer and processing practices. They are certified under the EU-US and Swiss-US Privacy Shield Frameworks.
How does Persona address security?
Persona implements bank-grade security and is certified for SOC 2, a leading global security framework. You can review their security page for more details about their commitment to security.