Building a trustworthy marketplace is one of our number one goals at Hipcamp. To help ensure that people are who they say they are, we have partnered with Persona, an ID verification solution that allows individuals to securely and easily verify their identity in seconds.
Note: We're rolling this out to newly activating Hosts first, and we will expand to the wider community over time to help this be a smooth transition. You may not yet have the option to verify your ID on Hipcamp. If you do have access to the tool, you can follow these steps to verify your identification on Hipcamp:
Go to your listing settings, scroll down to choose 'Profile' under 'Property Options.'
Scroll down and click on 'verify your identity now.'
A window will appear, click 'begin verifying' to continue.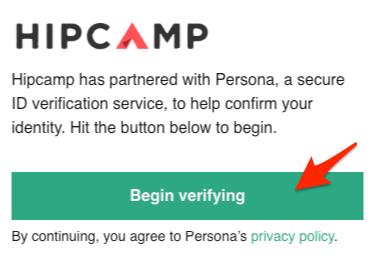 Choose whether you will provide a driver's license, ID card, or passport.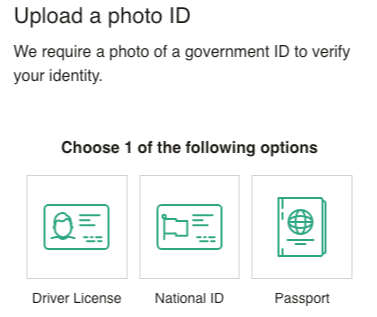 You have a few options for how to provide your ID:
Easiest option! Click 'continue on your phone via text message'. You'll be texted a link that you can open on your phone which will prompt you to take a photo of your ID and submit it directly to complete the verification process.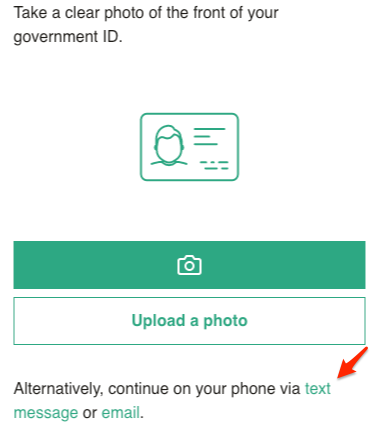 Other options:
If you have an image of your ID on your computer already, you can directly upload it via the 'Upload a photo' button.
If you have a webcam for your computer, you can click the camera icon to activate your webcam and take a photo of your ID to submit that way.
If you have access to the internet but no cell service where you live, choose the option to continue via email. You will be sent an email to finish this process - be sure to open the email on your phone

. The email will prompt you to take a photo of your ID with your phone and submit it directly to complete the verification process.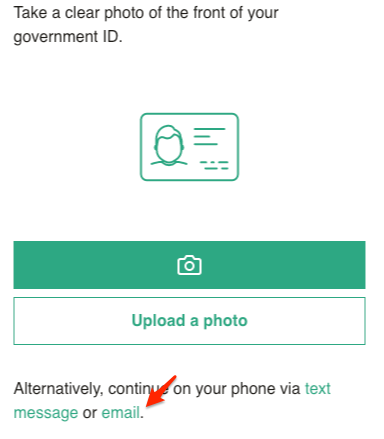 Quick tip! Do your best to take a clear photo of your ID document so the verification can be successful. Make sure the photo is taken in a well-lit location and that there isn't a glare on your ID. Try not to cover any part of your ID with your finger - it's best to place it on a flat surface and take the photo that way.
Hopefully, this is a smooth experience, but if you run into trouble during any of these steps, we're here to help! Please file a support ticket or use the question mark button in the ID verification tool to let us know you need assistance.