If you have space, adding the options for hosting RVs in your Hipcamp is a great way to generate more bookings and help get even more people outside.
When it comes to RVs, the more information you provide in regards to what you can accommodate, the better! RV Hipcampers can book your property with confidence if you clearly explain what kinds of vehicles or trailers will fit at your listing, and what kinds of hookups may be available.
If you allow RVs on your property, please make sure your settings are up to date by following these steps:
1. Log in to Hipcamp.com
2. Hover over Host Dashboard at the top and click Property
3. Click on Edit Listing
4. Click on Accommodations on the left side of the screen
5. Select the type of camping you can provide
6. Select the vehicle access type
This can be: pull through, back-in or pull-in. This will let the Hipcamper know if they'll be able to access your property with their specific RV setup. Feel free to share any additional information in regards to accessibility within the text box.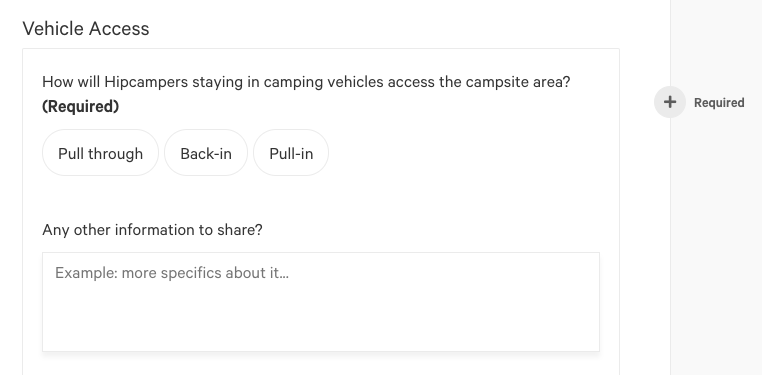 7. Select the type of surface you're providing.
This can be a concrete pad, loose gravel, or grass or field.
8. Provide information about the levelness of the ground.
Is the site level? Will the RV require leveling because the ground isn't fully flat? Feel free to add any additional information in regards to how level the ground is in the text box.
9. Enter the vehicle length that you can accommodate so that people with bigger vehicles can easily know if their RV will fit:
10. Enter whether or not you can accommodate for RV slideouts:
Some RVs and trailers have slideouts, which pop out of the sides of the vehicle to extend its width. If your site accommodates up to three feet on either side, then you can likely accommodate slideouts.
11. Enter whether or not you can provide an electricity hookup:
12. Enter whether or not you can provide a water hookup:
13. Enter whether or not you can provide a sewage hookup:
14. Enter whether or not you can provide a television hookup:
15. Do you allow generators? Generators can be noisy, so if you have tent campers in the same area, it could be disruptive to them. Choose if you will allow them or not in this step so that RV Hipcampers can plan ahead:
Complete the rest of the accommodation-related questions and be sure to hit 'Save' before you leave the page!
Here is a gif of what this page looks like: