Why is it important to have your RV settings up to date?
When it comes to RVs, the more information you provide in regards to what you can accommodate, the better! RV Hipcampers can book your property with confidence if you clearly explain what kinds of vehicles or trailers will fit at your site, and what kinds of hookups may be available.
Updating the RV settings:
We are testing a new site editor so some of our Hosts will see the new site editor on their Property tab of the Host Dashboard, instead of the existing Listing editor. You can find instructions for both below.
In the new site editor:
Click on

Property

from your

Host Dashboard

Click on

Sites

located next to 'Overview'

Click

Edit

next to the site you would like to edit

Click on

RV Details

on the left side of the screen

Click

Edit

Update information regarding RV type & length, site access, hookups

Click

Done

In the old Listing editor:
Click on

Property

from your

Host Dashboard

Click on

Edit Listing

next to the Listing you would like to update

Click on

Accommodations

on the left side of the screen

Update information regarding RV type & length, site access, hookups

Click

Save changes

at the bottom of the page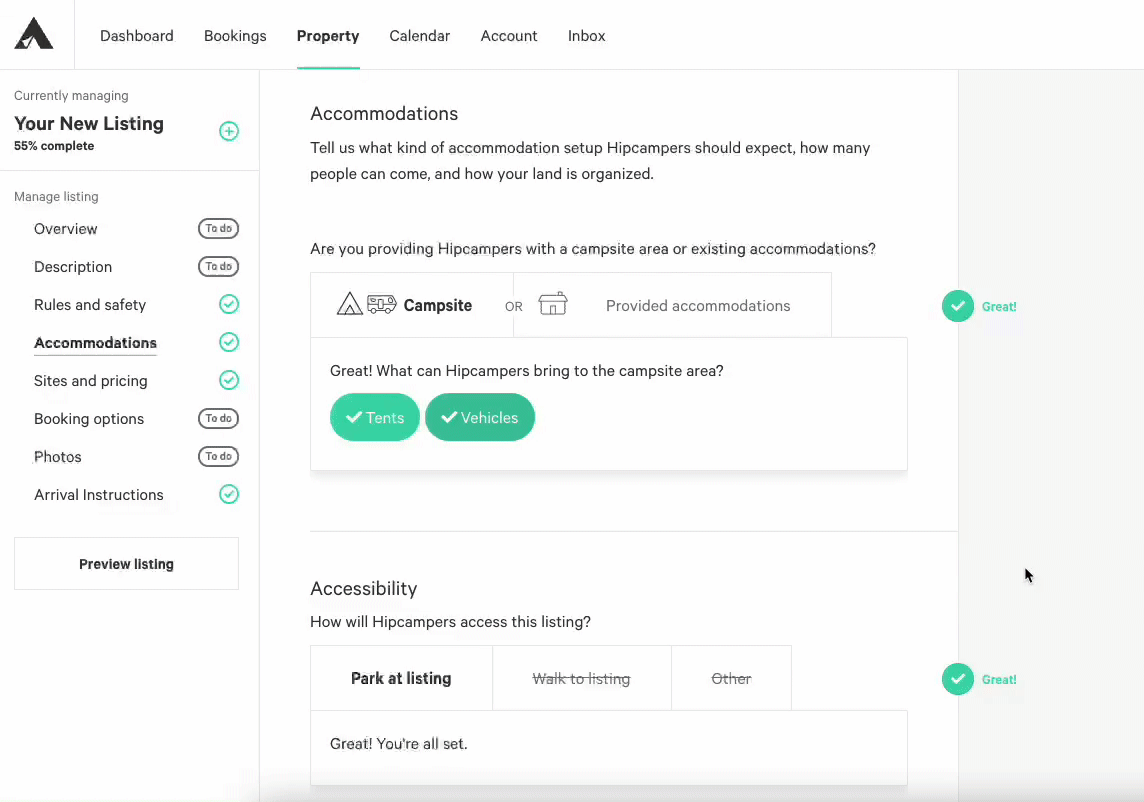 You can update the following information:
The RV accommodation type your site can support


The vehicle length that you can accommodate so that people with bigger vehicles can easily know if their RV will fit


The access into the site - pull in, pull through, back in


The type of surface you're providing and information about the levelness of the ground


Whether or not you can accommodate RV slideouts: Some RVs and trailers have slideouts, which pop out of the sides of the vehicle to extend its width. If your site accommodates up to three feet on either side, then you can likely accommodate slideouts


Whether you can provide electricity, water, sewage, or television hookups


Whether generators are allowed. Generators can be noisy, so if you have tent campers in the same area, it could be disruptive to them. Choose if you will allow them or not in this step so that RV Hipcampers can plan ahead