If you have had a great experience with being a Host on Hipcamp, and you know other people that would also enjoy sharing their land with campers, you can invite them to sign up as a Host and get rewarded for doing so!
Both you and the new Host you invited will get $100 in cash after the new Host's first booking has completed. This means the new Host will need to get at least one booking before you can both be paid. The bonuses are paid out through PayPal so you will need a PayPal account. If you do not have a PayPal account, please contact the Support team at support@hipcamp.com.
You can invite people by sharing your invite link that will help them sign up for a Hipcamp account directly, or by giving them your specific referral code that they can use when they sign up for a Hipcamp account. The new Host must enter your referral code in at the time they create their Hipcamp account. Unfortunately, we cannot honor referrals where the new Host did not enter your referral code. 
There is no limit to the number of people you can invite or the $100 bonuses you can earn by inviting others to Hipcamp. 
At your invites page you can: 
See your invite link and code 
Easily share them via email or social
See the number of invites you have sent out
See your total and potential amount of earnings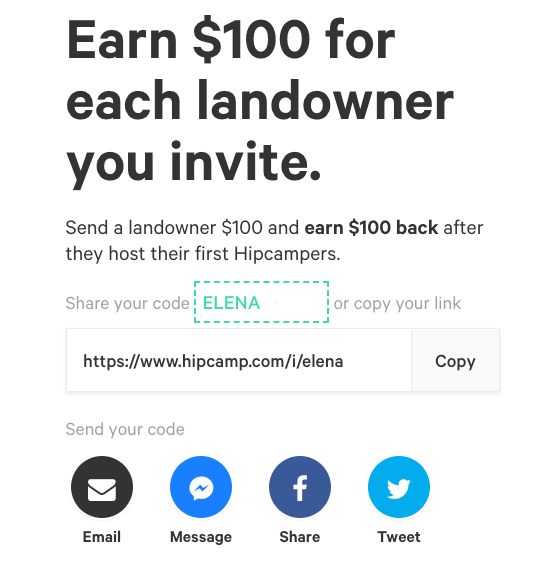 Thanks for spreading the word about Hipcamp and for helping more people get outside!