If you have multiple properties that you list on Hipcamp, you're able to manage all properties through your one Hipcamp account. Each property within your Hipcamp account will have its own calendar and its own separate sites so you'll need to know how to manage those for all of your properties.
What's the difference between a site and property and when to create a new property:
Properties have different mailing addresses and sites within a property all have the same address. Think of your property as an umbrella and any sites on that property are under the umbrella.
So if you have a site at one mailing address, but you want to list another that has a different address, you'll want to make a new property on Hipcamp.
How to create an additional property:
Once you've determined that it's best to make a new property, you will want to follow these steps:
Head over to your Host Dashboard
Scroll down to Add another property
Click Create new property
Follow the steps to creating the new property
How to manage multiple properties:
Once you've gone through the steps of creating the new property, you'll notice there will be a new drop-down menu in the top-right corner of your account. It will look something like this: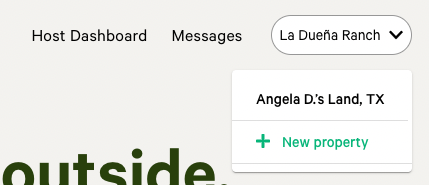 In order to manage your sites and calendar for your other property, simply toggle between your multiple properties by clicking on this drop-down menu and selecting the property you want to manage.
Good to know: At this time, Hosts can only manage one property at a time on the app. Whichever property you were managing last on the website will appear on the app when you log in.