We are so excited about this new feature! As a Host, you are now able to schedule messages that are sent to your confirmed guests. At this time, these pre-written messages will be sent to your guests 48 hours prior to their check-in.
Here are a few reasons you might want to schedule messages:
To remind guests of your listing's rules
To detail some of the features of your property
To recommend activities in and around your property
To provide detailed arrival instructions or directions
Here is how you set up your scheduled messages:
Head to your Dashboard
Scroll down until you see "Scheduled Messages"

Click "Manage scheduled messages"
Click "Add message" at the top

Name your scheduled message and draft your message to your future guests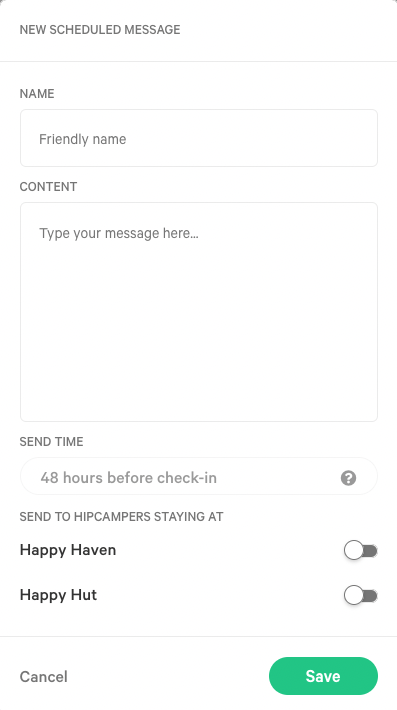 Select which listings this scheduled message applies to
Click "Save"
Your new scheduled message will be sent to your future guests 48 hours before they are due to arrive!
If you'd like to share a welcome packet or share a file with more information, feel free to upload your welcome packet as a .pdf file to Google Drive and share the link in your scheduled message. Alternatively, feel free to share a Google Doc as a link. Just remember to enable sharing for "Anyone with the link" on your doc's sharing settings.
Please note that Scheduled Messages will only be sent to bookings that are created after you set up your scheduled message. So, if you turn this feature on today, your scheduled message will be sent to all bookings made after today.
If you're looking to update your arrival instructions and directions, check out this FAQ!