Hosts who share their listing on Facebook can drive hundreds and even thousands of people to their listing pages. That's a lot, considering more than 10 percent of all bookings on Hipcamp originate from social media posts written by Hosts like you! For a deeper-dive on how to use Facebook to market your listing, check out our guide. In this FAQ, we'll be covering
How to share your own Hipcamp on Facebook

How to utilise Facebook groups to grow your reach
How to share your listing on Facebook:
Select which listing you'd like to share on Facebook in the

"Property" section of your Dashboard

, and press "view listing page."

Click the share button, directly to the right of the "save to list" button.

Press the icon for Facebook.

If you are logged into your Facebook page, the button will create a Facebook post window, which you can then add text into.

If you are not logged into Facebook, you'll need to enter your login information, and then the window will open for you.

Write a caption.

We recommend including words that mention the best parts of your property, and include an action like "Book now!" or "Share this post with your friends!"

Example #1:

My Hipcamp, [insert your Hipcamp's name], is available this weekend! Feel free to share, or tag a friend who you think may be interested in a private and secluded camping experience.

Example #2:

Looking for a weekend getaway? Look no further than [insert your Hipcamp's name]. Book your stay!

Tag "@Hipcamp".

To tag Hipcampuk in your caption, press the "Shift" and "2" buttons at the same time to create an @ symbol.

After you create the @ symbol, type "Hipcampuk" and select our page.

Be sure

not

to select Hipcamp Host page, as your friends won't be able to see the page.

Set your post to public

, so it's viewable to potential campers when shared.

In order to set the post to public, make sure the button on the bottom right across from "News Feed" is set to public.

Press "Publish to Facebook.
Congrats, your post has been shared on Facebook!
Bonus steps: To boost your shares, you can go to your own Facebook page, and find your own post. Click "comment" and tag a few friends in the comments! This should help with your post's engagement and likes.
Here's a walkthrough of the above steps: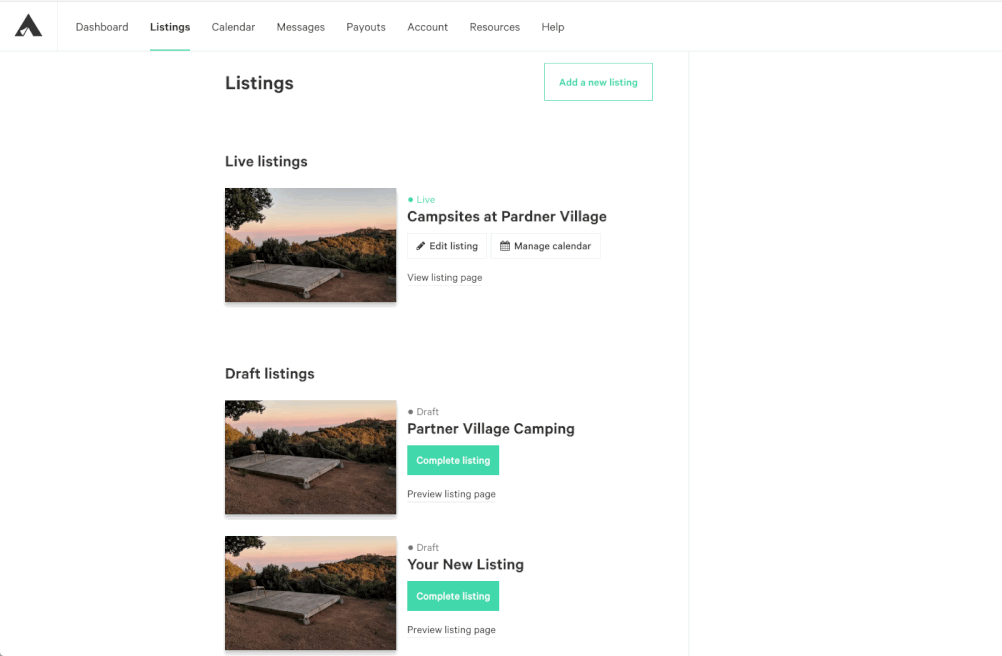 How to use Facebook Groups:
Facebook Groups dedicated to camping and other outdoor stays offer a great opportunity for Hosts to promote their Hipcamp to a wider audience, connect with travellers, follow trends, learn about the industry and more! Below is a guide to utilising these groups to get more Hipcamp bookings.
Many of these groups include a broad community of members, whereas others are more niche, with a smaller community and a more focused interest
To search and join groups on Facebook, you need to have an existing Facebook account.
Log in to Facebook, and go to the Facebook search bar.

Type a search term that is aligned with your offering e.g Campsites in the Lake District.

Filter the results by Groups.

Look for groups with an active community, where there are daily posts and discussions.

Join groups that are well aligned with your offering, and start interacting with your new-found community!
A few tips:
Include your Hipcamp URL in any group posts

, so people can click on this link, view and book your Hipcamp.

Ensure you check the group rules before posting. Some groups will have rules around selling and advertising.

Utilise these examples:

"Hey friends! Happy to announce that I just listed my property on Hipcamp, a company that partners with landowners to create new places to camp. I'm excited for my first campers to come! Send any adventurers my way…[Link to your listing]."

Looking for a place to camp this Earth Day? We still have campsites available at [your listing]! [link to your listing].
Examples of how Hosts are already using Facebook groups:
Often, travellers will use groups when seeking suggestions for places to stay. This Host spotted one such request in the Camping with Dogs Queensland group and shared his Hipcamp.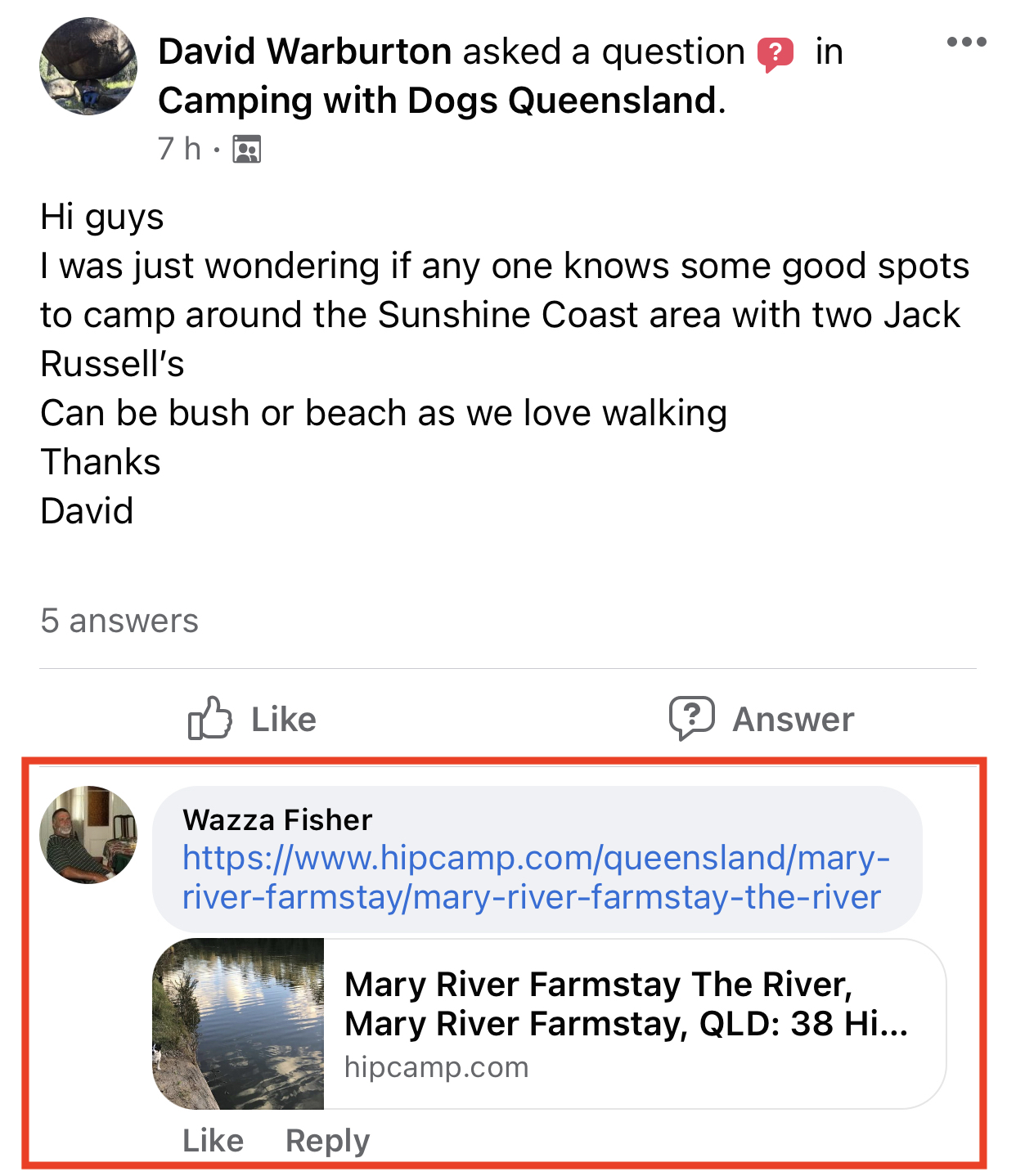 This Host shared her listing in the popular Camping in Queensland group, a public group with over 121k members.