Has something come up and you want to change your dates? Want to extend your trip while at a Host's property? Not to worry! You can modify the booking directly from your account.
If you're using the app and want to modify the dates of your trip, check out this article: Can I modify my trip on the app?
How to change your trip dates on the website
Login to your Hipcamp account via your mobile or web browser.

This feature is not yet available via the Hipcamp App. Make sure you log into the same account you used to book the trip to make a modification in a web browser if you booked your trip via the Hipcamp app!

Visit your Trips Page
Click the Trip Page button on the booking you're looking to update.
Click the Modify trip button and select your new trip dates.
Review your changes and click Confirm charge to submit the update.
The modification will be confirmed right away.
Here's a video to show you how to make a modification from your Trip Page.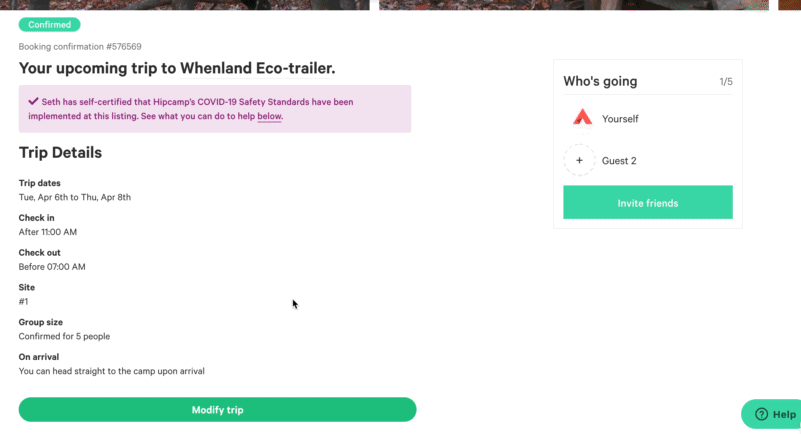 Refunds will be processed according to your Host's cancellation window, which is shown on your Trip Page. For instance, if you remove a day from your booking and are within your Host's cancellation window, you will be refunded for that day according to your Host's cancellation policy. If your Host's cancellation window has passed, you will not receive a refund for the date that is removed.
Questions about a fee you were charged for modifying your trip? Please review this FAQ.
Refunds can take up to 10 business days to be reflected in your account, although it is usually quicker than that. Please keep that timeline in mind when checking for the arrival of your refund.
How to change your trip dates if the 'Modify Trip' tool is not available for your booking
If you don't see the 'Modify Trip' button on your Trips Page, it's likely because you booked with a discount code. The tool will be available soon for all bookings, but in the meantime, we're glad to help you out! Follow these steps to change the dates of your booking:
Confirm your new dates with your Host via Hipcamp messages.
Once your Host has approved your new dates, please contact our Support team to adjust your dates. You can do so here.
Need to add more people to your booking? Please follow the steps in this FAQ: How can I change my group size?