We've found that Hosts who provide accurate, quality photos of their listings receive more bookings. You can always re-order your own photos in the photo section of your Host Dashboard if needed, and you can flag inaccurate or inappropriate photos for removal.
Anyone who has stayed at your listing can upload photos to your listing. Our community can upvote their favorite photos on your listing, which may change photo order (photos with the highest number of upvotes appear first.)
For some tips on taking great photos, click here!
How to add photos to your listing on the website:
Head to your Dashboard and click on "Property"

Choose which listing you want to add photos to

On the left side, select "Photos"
Select "Click to add photos" in the middle of the page
Either drag the photos you want to add to the "Select or drag and drop..." box. If you click on the box, you will have the option to upload the pictures from your computer.
Click "Upload and Post"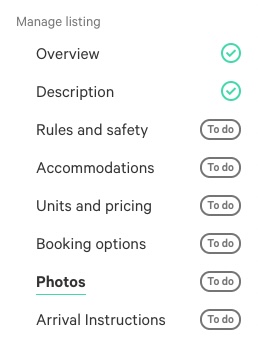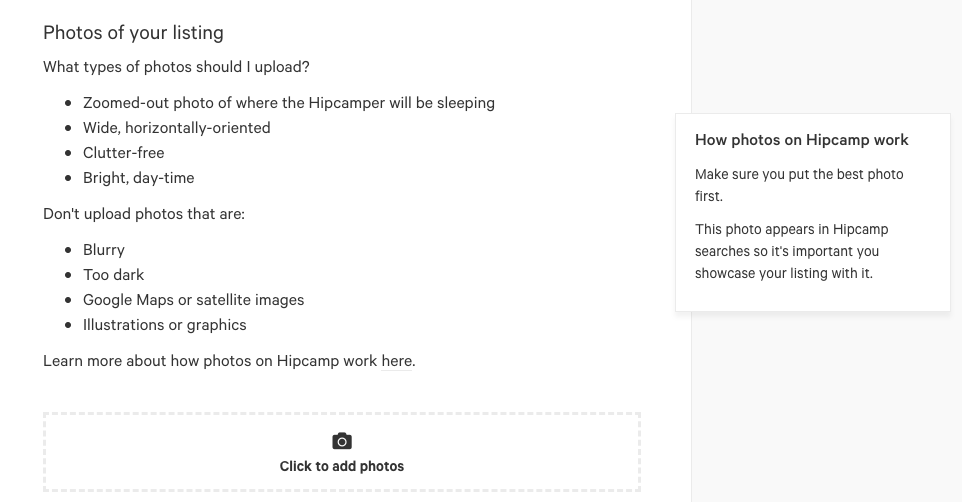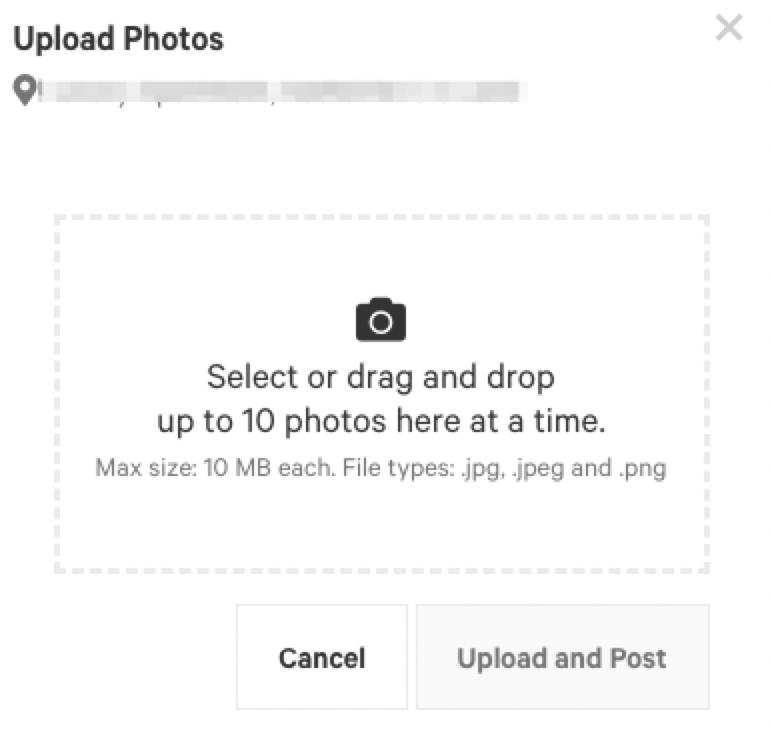 Tips for taking quality photos:
Your first photo is the most important photo.
This is the photo that appears in Hipcamp searches, so it's important that it accurately portrays the listing. Make sure this is a clear, zoomed-out shot of your listing so the camper is more likely to click on it.
Clean up the site
Clear clutter, rubbish, or anything that might deter a Hipcamper.
Take horizontal photos
Take zoomed-out landscape (horizontal) photos instead of portrait (vertical) photos
Use the best lighting
For outdoor shots, take photos in the later afternoon to get a warm, flattering light. For indoor shots, take photos during the day when there's lots of bright, natural light and turn on any additional lighting.
Bonus: What makes your land unique?
Have you got any cute farm animals? A swimming hole? A great view? Take photos! Hipcampers love seeing what makes your land unique.
What not to include:
Photos of Google maps or other maps of your property

Photos of your exact address

Outdated or inaccurate photos

Photos that are not your land or property
For more tips on taking great photos, check out 4 Easy Tips on Taking Beautiful Photos of Your Land!