Turning on a Fire Ban
If your county, province, municipality, or council has an active fire ban, or if you would like to temporarily not allow fires on your property for any other reason, you can toggle on a fire ban for your entire property at one time. The ban will be active across all units you have on Hipcamp under that property.
You can do this on the homepage of your Host Dashboard or on the app.
On the website:

You can select how long you want the ban to be in place, and specify exceptions to the ban if you will allow a gas stove or any other options in the list. If you want to include additional instructions, write them in the text box.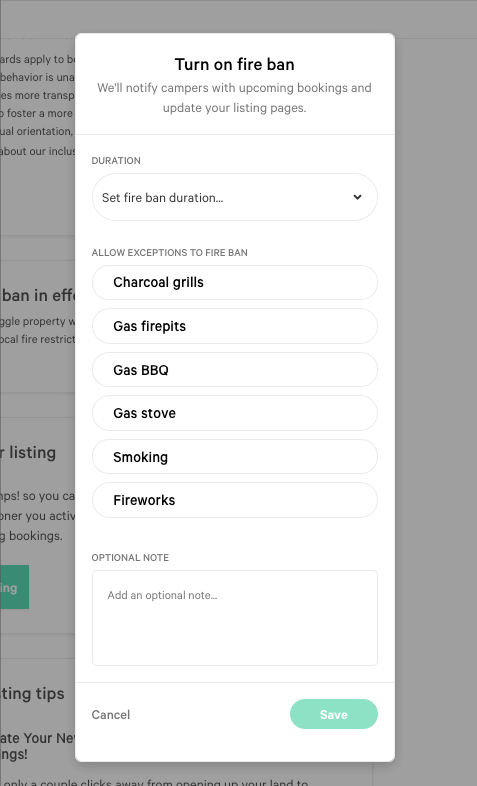 On the app:
Tap the Property tab at the bottom of the screen. At the top, you'll see a Fire ban button. Tap that button to turn the ban on or off.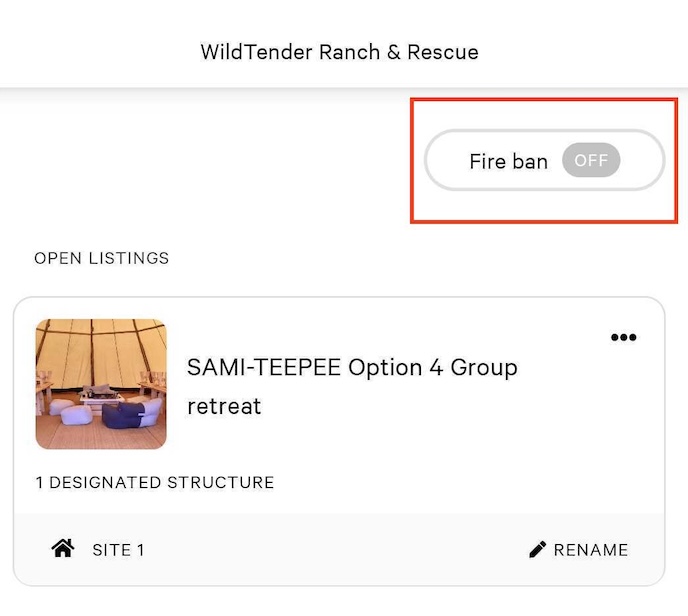 Please note: If you have a fire ban currently enforced, you must disable it before you are able to set up a new one with your updated preferences.
When you first turn on the fire ban, emails will automatically be sent to Hipcampers with an upcoming booking at your property within the date range you selected to let them know about the change. An email will also be sent to those campers already at your property if you turn on the fire ban for any of the dates of their trip.
If this new information makes the Hipcamper want to cancel their booking, then it will be cancelled in line with the Host's selected cancellation policy.
We'll email you when the ban is about to expire if you need to enable it again. You can always visit your Dashboard and turn off the ban before it is over if conditions change. Hipcampers will then receive another email stating that the ban has been lifted but that they should still keep fire safety top of mind on any outdoor trip.
Additional Resources
The below journal posts and the printable sign can be helpful additional resources on fire safety. Thanks for your partnership in making sure that Hipcampers are always fire safe!
Everything You Need to Know about Fire Safety
How to Set Up Your Property for Safe Campfires